Gal Aslan, Israel Fellow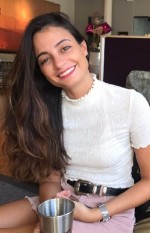 Born and raised in Ganei Tikva, Gal spent her high school years as an Instructor Course Guide and Troop Leader of 8th graders participating in the Scout Youth Group Movement (the Israeli Scouts). The positions included arranging content for different activities, planning trips in Israel throughout the year and overseeing the instructors' staff and youth group.
In 2011, Gal served in the IDF as a Sorting Officer in the Sorting and Assignment Department. She was responsible for managing and supervising the assignment process while commanding and guiding a team of female soldiers. Until recently, Gal took part in an active reserve duty in the same unit she served.
Gal received her B.A in Political Science and Advanced Arabic & Jewish Studies at Bar Ilan University. As a student, Gal was a recipient of the "Nefesh Yehudi" scholarship. As part of the scholarship, she participated in lectures and workshops about Jewish-Zionist awareness, and the connections to the historical and cultural roots of Israel. Gal, also, worked at the Yitzhak Rabin Center as an instructor of workshops regarding leadership, Israeli society, and democracy. Gal is excited to join the Minnesota Hillel team to continue to teach and learn from our community!
Stop by Hillel and get to know her better, or call ahead for some quality one-on-one time. You can reach him at 612-379-4026 or gal@mnhillel.org.