Mackenzie Litt, Assistant Director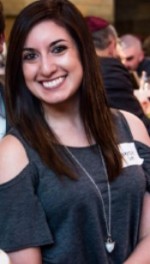 Mackenzie is the Assistant Director of Minnesota Hillel. Mackenzie, originally from Maple Grove, Minnesota, joined the Minnesota Hillel team in 2016. After living in Kansas for 5 years, she was excited to move back to the Twin Cities and to work for an organization that she is so passionate about. Mackenzie graduated from the University of Kansas with a BA in Psychology and a minor in Applied Behavioral Science with a focus in Organizational Behavior Management.
In college, she was an active member of the KU Jewish community, holding many different internships at KU Hillel and positions in her sorority, Sigma Delta Tau. Currently, Mackenzie is working towards her Masters in Organizational Development & Change from the University of St. Thomas. When she is not at Hillel or in school, Mackenzie loves spending time with her family & friends, going to concerts, and trying yummy new restaurants around town!
Stop by Hillel or contact her directly to set up a time to get to know her better! She can be reached at mackenzie@mnhillel.org or 612-379-4026